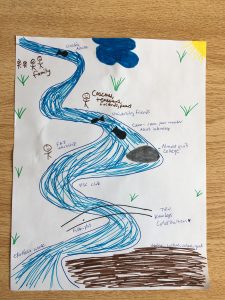 My river of life starts with my super immediate family. You see a fish near my family and that represents the advice my uncle Gary had given me as a 12 year old through a phone call, because he moved up north to be with his family. My uncle told me that if I wanted to get community support and scholarships then I needed to invest into the community before they would invest in me. So, he basically told me to volunteer as much as I could and join as many clubs as I could without my grades hurting.
I decided to try out cross country, because my coach Heather L. convinced me during a basketball game while I selling 50/50 raffle tickets to at least give it a week before deciding it wasn't for me. Later on my coach Heather mentioned she had seen me running around town and I told her well that was just a mile not 3.2 miles. Anyways, cross country saved me because it allowed me to cope through running.
The physical fatigue I would get from cross country reminded me how strong I was and that I could transfer that strength to my studies. Even when I felt tired of school and having to go to school early and stay late I knew that feeling that exhaustion was something I could handle. So, then I applied to the University of Alaska Anchorage and continued my education. That is where I met some good friends to support me while I was struggling with homesickness and they helped me get through my first couple of years.
Part of what helped me gain a community at the University was the students positions I got and the ability to meet more people who worked on campus, whether they were students, staff, or faculty. It really helped me get looped into the university, so much so that an article was even written up about how I coped with homesickness. I really considered quitting the university and without a community and an internship to convince me otherwise I wouldn't have finished.
Part of what inspired me was an internship that redirected my thinking. I learned about Alaska Native history and about internalized oppression. It gave me the answer I was looking for when I thought, "Why are there so many social issues in the Indigenous communities throughout the world"? I learned about boarding schools, racism, oppression, colonization, language loss, and how internalizing that oppression got me to think there was something wrong with me and the other around me (victim blaming).
When I realized that a nursing degree was not exactly what I wanted to do I change my degree to health education, so I could find ways to create prevention programs based on culture and healing from past and current traumas. It gave me the internal motivation I needed to finish my degree, because I wasn't getting my degree to just be able to financially care for myself and family. I got my degree to find ways to promote healing and support my community.
After that summer I joined UAA Native Student Council (NSC), because I wanted to surround myself with others who might be experiencing the same things I was working through. It was a great because I was connected to other students who shared similar values and goals. I was able to get more involved in the native community Anchorage, Alaska when NSC would volunteer at least once month at different venues and for different organizations.
Being surrounded by Indigenous students who were out there accomplishing a lot pushed me out of my comfort zone. But what really pushed me out of the "nest" was when Dr. Maria Williams, director of Alaska Native Studies, encourage me to apply for a Fulbright grant. I knew that the Fulbright was a prestigious award and I didn't feel quire worthy. However, my friends from NSC were heading off to graduate programs, peace corps fellowships, and teaching native languages at the university. I realized I too needed to be off doing something to learn more.
I applied two weeks before the deadline and found out I was awarded with the grant in April 2016. I was shocked, but I did put more effort into that application than any project or assignment I have done before. I worked with 6 different academics and have 3 letters of recommendations. I did 6 drafts for my personal statement and 10 or maybe 12 drafts for my grant statement. I was so worn out that I basically prayed to God/Creator that if I'm meant to go to Canada he better figure it out, because I did everything I could on my end.
Now, I am in Canada and I have been learning so much from the people here at Cplul'kw'ten, Gathering place and at Thompson Rivers University. I am thankful for all the people who have been welcoming and helpful and for the staff at Cplul'kw'ten and especially Joanne Brown the supervisor at Cplul'kw'ten. I am grateful for Dr. Tracy Penny Light who has been helping me along and is my supervisor. Also, for Skylar S.S. for giving me guidance and advice on my workshops. It has been quite the journey.
I have learned a lot about myself and about working around identity. I think sometimes you have to take the chance and trust that you will do your best and sometimes that is just enough. However, I have struggled and sometimes I am glad I didn't know how hard it would be at times. I am not sure I would have chosen to do it if I knew how hard it would be sometimes, but then I remind myself that my past relations had it harder than I ever did. That means the people before worked hard to make it easier for me and I'll do the same.